Thu, Mar 15 2007 03:23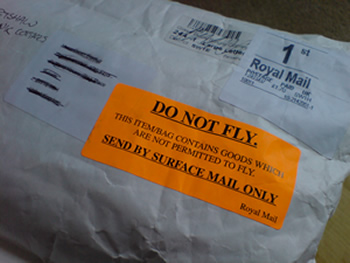 So the long weekend in London was great, I got to catch up with several old friends, made a couple of new ones and generally recharged my batteries for the ongoing slog that is finding my next proper job. All that was good. Getting there and back however was
hellish
.
I'd been holding off booking my transport while the whole job situation is still unresolved, in spite of knowing I needed to be there for the weekend since December. With the rail network's arcane pricing structures, booking ten days before travelling meant that the train was going to cost me £60 more than flying with EasyJet. I'm a tad cash strapped right now and an extra £60** seemed like a big deal so (in spite of being disinclined to widen my carbon footprint unnecessarily) I booked my £30ish return flights and thought no more of it... until I came to actually travel that is. The journeys both ways were deeply unpleasant experiences thanks to all the nonsensical new airport security arrangements I was prodded, poked, generally treated like a criminal and - worst of all - substantially delayed by. In the end I spent so long being needlessly delayed on the flimsy pretence of security that it actually took me longer to fly to London than it would have to get there by train!
So by the time my parcel* arrived this morning I'd already decided to take the advice printed on it: I'm done with domestic flights. Costs be damned it's just not worth the hassle, discomfort and delay,
especially
when it already nags at my eco-conscience. I'll happily take planes for journeys that wouldn't be feasible any other way but as far as I'm concerned the days of short haul hops are over.
* The picture is of the deodorant I had to buy in London to replace the one I'd packed and then had confiscated in case it was part of a liquid bomb (which is scare-mongering pseudo-scientific nonsense and physically impossible). I had to either leave the replacement behind or post it back to myself, which I did because I was feeling stubborn, even though it's a ridiculous thing to have to do.
** Irritatingly, I worked out after the fact that I'd spent an extra £30 on getting to and from airports - not to mention money spent on replacement toiletries and the shipping thereof ;) - whereas if I'd gone by train I could have walked to and from Haymarket and would have been delivered to and collected from London city centre at no extra cost. I'll know better next time.