Sun, Nov 26 2006 12:00
After Margaret River I met up with Eric back up in Bunbury (close as the train gets) and we headed down the coast again visiting various places along the way, including (after an overnight stop) this: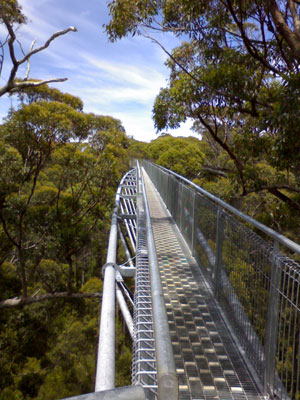 It's called the valley of the giants treetop walk, and is a steel suspension walkway that rises from the forest floor to 40m up in the trees canopy. Tingle trees grow to as tall as 60m so even way up there we weren't above all of them... it was a pretty spectacular sight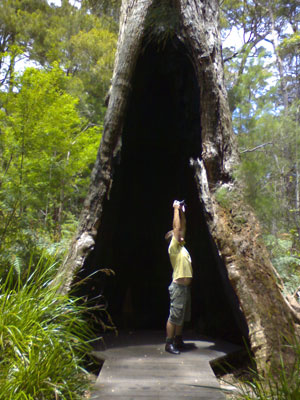 As were the bases of the trees. After walking through their canopy we took a second walk along the forest floor among some of the oldest Tingle trees, many of which like this one have been hollowed out by fire in the distant past but are still growing. Eric's very kindly providing a sense scale in this shot: he's stretching to get a shot of one of the spider's webs, and given that he's 6'4" the fact that stretching his hands barely reach halfway up the hollow gives you some idea just how big the trees are!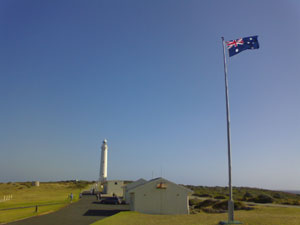 After the valley of the Giants we headed down to Albany and the National Park beyond it on the coastline - this place is on Australia's Southwestern most tip where the Southern and Indian oceans meet. Pretty spectacular piece of coastline all round.