Wed, Aug 23 2006 06:18
I'm back online! I have been for a day or so now actually but I've been busy catching up and still am in a few cases, several folk out there are owed longish and well though through replies to emails and I'm getting there (in amongst a few more bits of nesting here at the new flat) but it'll be a week or so before normal service really resumes I think.

meanwhile everything is going very well you'll all be happy to hear. I'll tell you all about it... later
Wed, Aug 16 2006 06:53
... just awaiting a switch being thrown in a telephone exchange somewhere. The only bit of my move (now complete!) that hasn't gone smoothly has been the transfer of my internet connection. Various factors outwith my control have led to what should have been a swift-ish and simple process taking most of the month to complete, and I should be back online properly from late next week.

otherwise all's well - proper update when I can do one from the comfort of my own sofa.
Wed, Aug 2 2006 08:33
I've moved! well almost, I'm actually sitting on the carpet in my nearly empty old living room at the house typing this before I load another batch of stuff into the back of the car, but all the big stuff all went yesterday with the help of three
very
good
friends
(thanks again guys!) and a big rental van.
Today Hamish (my new flatmate) and I drove in the van to IKEA to brave the crowds and buy ourselves some large items of furniture we wouldn't otherwise be able to transport, we emerged largely successful and only borderline insane. Hame's room is pretty much set once the stuff gets built, mine just needs a bed since I didn't like any of the ones from the land of ice and snow.
So anyway the new flat, it's on the western edge of the city centre (c.5min walk from Princes Street) tucked away off the road in one of the city's
"colonies"
which paradoxically makes my new urban home look and feel much more rural than my old rural one ever did, look: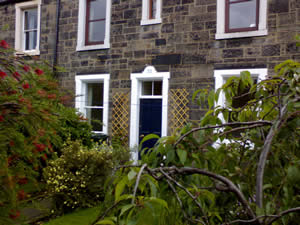 That's my new front door seen from the footpath that runs between our garden and the top flat's from the row in front. Cute eh? it's even better inside, or at least it will be once I've finished moving in... speaking of which I have more stuff to go pack so I'll leave it at that for now except to say I'm ecstatic about living in Edinburgh again.
*glee*